Many people who live in cities will notice that the pollution that surrounds them every day can actually affect the health and condition of their hair. This is because toxins in the environment are easily absorbed by the hair shaft, leading to dull, lifeless hair that is in desperate need of a pick-me-up.
Although the Aloe Rid Gentle Clarifying Shampoo is very expensive, users have testified to the amazing improvements they noticed in the hair after using it. And the Nexxus product is even popular among those who are trying to wash illegal impurities from their hair, such as marijuana, ahead of a court or workplace drug test.
How to Use
You only need to use a very small amount of the Gentle Clarifying Shampoo for each wash — and if you are simply looking to remove environmental toxins from your hair then you don't even need to use it very often.
If you are trying to remove traces of marijuana from your hair, then you need to use the Nexxus shampoo in conjunction with other products, every day before your test. You can soon use up a very expensive bottle of shampoo that way!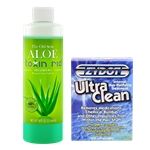 Whatever your reasons for using the shampoo, the most effective way to use it is to concentrate on the roots of the hair, as that is where most of the toxins build up. Massage it into the roots well and leave the lather on your hair for several minutes before rinsing.
Despite its powerful ingredients, which strip toxins from the length of your hair, the shampoo is actually very gentle. It will not damage the hair at all, while at the same time removing any traces of chlorine, chemicals, environmental pollutants from industry or traffic and other impurities that can leave your hair looking less than shiny.
How Does It Work?
Your hair may look simple, but it is actually quite a complex structure. Each strand of hair is made of three parts; the central medulla, the outer cuticle and the cortex, where pollutants and impurities are stored.
Most shampoos only wash the outer cuticle, giving hair an outwardly healthy and shiny appearance, while leaving the impurities trapped inside untouched. The only way to get at those impurities and to clean the central cortex is to use a shampoo that first opens the cuticle.
That is where the Nexxus Aloe Rid Gentle Clarifying Shampoo comes in. Its active ingredients, including propylene glycol, actually open the cuticle layer, allowing the central cortex of the hair strand to be cleaned of all its impurities and pollutants.
This particular shampoo may have become a firm favorite amongst marijuana users who need to pass a hair strand drug test, but it is also a great product for those of us who simply want better-looking, healthier hair.
Strong enough to strip impurities from the center of the hair strand, yet gentle enough to leave our hair looking and feeling great, Nexxus Aloe Rid Gentle Clarifying Shampoo is the ideal product for city dwellers whose hair has been left looking lifeless by pollution from traffic and industry.
It may be expensive, but there are no other products on the market that do what this shampoo can do. And for many people, that makes it a very worthwhile purchase.
Available for purchase at: http://www.testclear.com